Manual registration of payment & invoice
This is an example from an UK club where the currency is set to be in pounds, but you would get your local currency. 
The invoice solution is aimed at members who receive financial support or members who for various reasons are not able to pay online.
Invoice and manual payment in Spond Club will allow you to create an ordinary payment request, and then create an invoice which you download and manually send by e-mail og print. When someone has paid via eg. account transfer or other methods, you can register this payment with the payment date and comment field for internal use manually. 
You can create an invoice and register a manual payment for a payment claim by entering a payment (eg annual subs 2020), selecting a member who has received a claim and then pressing the drop-down menu as shown below.
Here you get the options "Create invoice" and "Register manual payment".
Note: In order to generate an invoice or register a manual payment, you must first have sent a payment request to the person.

Create invoice
When you create an invoice, you can adjust the due date.
By default, the invoice description will contain "Mark the payment with invoice number: xxxxxxxx".
The purpose of the standard text is to make it easier for the club to identify a payment.
You choose which payment segments and optional products are to be included in the invoice. If you want to change any of the prices you make by editing the original claim that the person has been sent.
If you do not know which optional products the recipient wants to buy, you must clarify this before sending out the invoice so that you can tick off these products.
You can create a new invoice even if you have already created a previous one. The new invoice will then overwrite the old one and with a new serial number.
Once you have set up the invoice correctly, you can download it as a PDF and forward it via e-mail, Spond Club or other channels.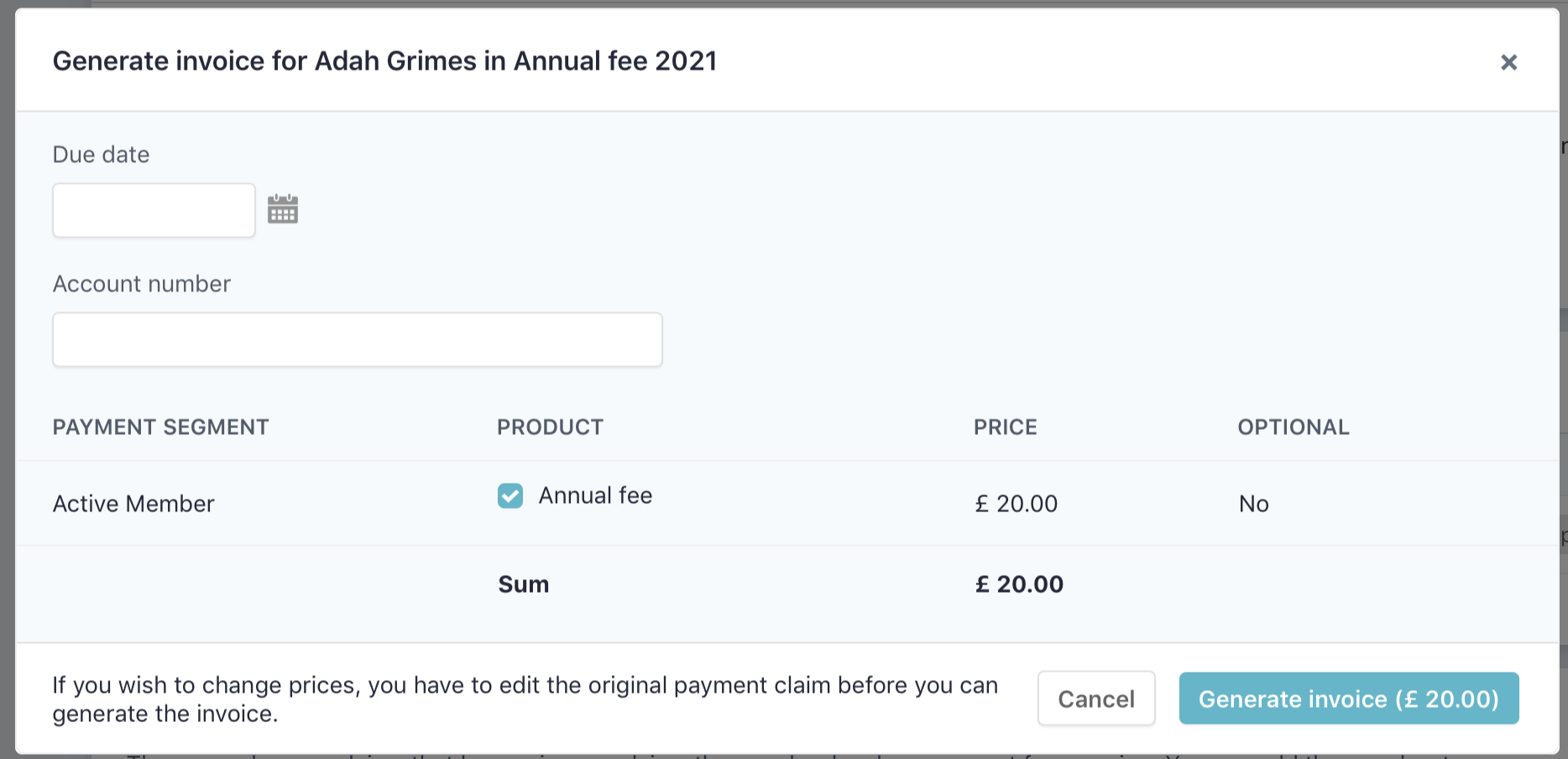 Register manual payment
You enter the payment date and note for payment, eg "paid in cash ...", "transferred directly via bank ..." etc.
You tick the payment segments and any optional products that the person has paid for. If the person in question has paid a different price than the one on the invoice (eg due to oral agreement), then you must change the price in the original claim before registering manual payment so that the accounts for the payment are correct.
You can only register one manual payment per payment claim, ie only one payment per member per payment. This is in the same way as payments by card (VISA / MasterCard) work, that only one payment can be made per member per payment claim.
If you are going to register a payment that applies to a family that has received a family discount, then the amount paid must be distributed to everyone in the family and registered manually to each individual family member.
---
---